Preconditioning allows you to pre-heat or cool your battery/cabin before you start your journey. It works by adding the precon setting to a charge schedule. Ohme will max charge your EV for the last 30 minutes of your schedule before your target finish time. You may need to set manual controls via your car or manufacturer app for preconditioning to work.
Climate Control allows you to pre-heat or cool your cabin by adjusting the temperature in Manage my EV, without adding it to a charge schedule. You can turn it on or off anytime via the Ohme app. Climate Control is currently only available for drivers who have connected the following manufacturer accounts to their Ohme app:
Tesla
Kia
Hyundai
BMW
Nissan

Why should I precondition my car?  
As well as the heating and cooling benefits, there are other advantages to preconditioning. You may notice that you have a reduced range or that your battery runs out more quickly in the colder months. That's because the cells in your car's battery don't do their best work when they're too cold. The best way to get the most out of your EV battery is to precondition it before you set off. This warms the battery so that it doesn't lose charge so quickly. 
What's the difference between the climate control feature and the preconditioning feature? 
If you use your car app (and it's one that we're integrated with), you'll be able to start and stop climate control and adjust the temperature remotely. If you have a car that we're not integrated with, you'll be able to use the preconditioning feature tied to a charge schedule. At the moment, we've integrated this feature for Tesla, KIA, Hyundai, BMW, and Nissan. We'll be working through each manufacturer, so keep an eye out for updates.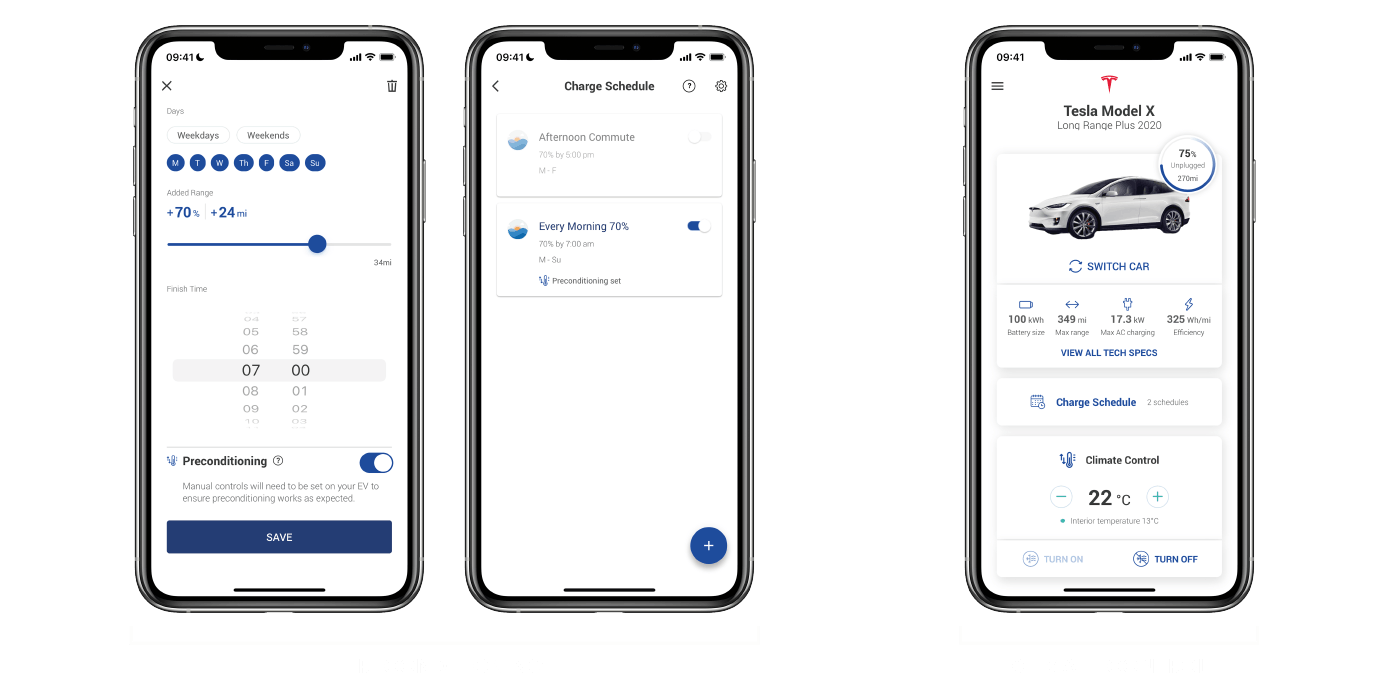 When will preconditioning take place?  
Preconditioning with take place during the last 30 minutes of your scheduled charge session. During this time, Ohme will 'max charge' to ensure preconditioning takes place. Make sure your target end time on your Charge Schedule is your usual departure time so that your car is ready to go when you are.  
What about my price cap?  
If you have a price cap enabled, Ohme will charge as usual within the cheap window and still deliver power for the last 30 minutes of your charge session to allow preconditioning to take place. Do bear in mind that this will mean your charge sessions may be a little more expensive than usual, as some charging is taking place at the more expensive rate. 
How do I get started? 
Head to the 'Manage my EV' section of the Ohme app. If you have a Tesla, KIA or Hyundai and you use your car app, you'll see the new climate control tile where you can remotely adjust the temperature. For all other drivers, click on 'Charge Schedule' where you'll find the option to enable/disable preconditioning in one of your schedules. Check out our video below for a step by step guide.