Why charge your electric car with Ohme?
Beyond smart – get more from your electric car with our clever, easy-to-use, and future-proof charging technology.
Unique technology
Our best-in-class, dynamic chargers use live data to automatically provide you with the greenest and cheapest energy. It's simple: your car will always be charged for whenever you need it to be ready.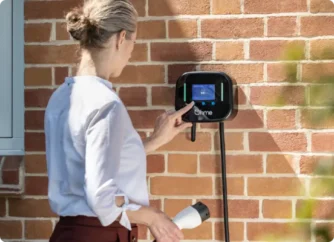 All-in-one package
We take care of everything, so that you don't have to. Including your installation – whether it is standard or custom, we guarantee a safe, high-quality setup by one of our Ohme approved installation partners.
Seamless service
We're customer-obsessed and believe that the switch to electric should be easy. Our team of experts is here to guide you every step of the way, helping you get the most out of your charging experience.
Save up to £600 a year with our chargers
Ohme's unique tech integrates with all energy tariffs, including EV tariffs like Intelligent Octopus and OVO Charge Anytime, so that you can charge at the cheapest and greenest times available. Unlock greater savings with your Ohme charger compared to a standard charger and tariff. This is real smart charging.