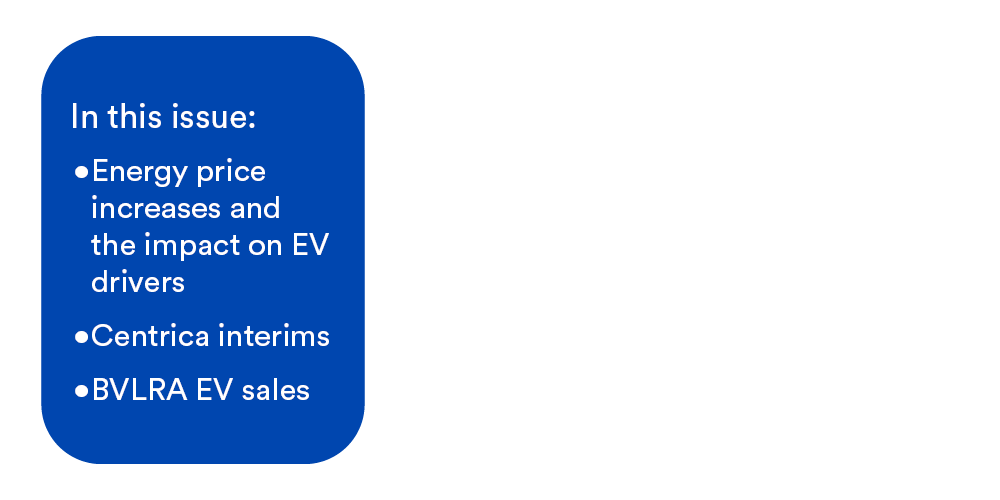 Energy prices likely to double this winter!
With flows of gas from Russia being curtailed yet again, the resulting increase in wholesale prices sees industry experts now predicting that prices will more than double this winter to over £3,800, from the current price cap of £1,971 for the average household, here. EV drivers that typically have double the average electricity consumption we be hit particularly hard by these increases.
It is likely that we will see the Standard Variable Tariff increasing from c. 30 pence per unit to 60p per unit, meaning that EV drivers on these tariffs will see their driving costs increase to 17p per mile, (@ 3.5 miles per kWh), the same as the current HMRC rates of 17p per mile for a typical mid-sized petrol family car @ 45 miles per gallon, here.
Whilst suppliers are not taking on new customers at present, many offer EV tariffs to their existing customers, offering discounted rates for off-peak or EV charging.
With prices set to rise, EV drivers should examine the benefits of these tariffs, recognising that there may be a slight premium in peak rates versus the current SVT, but these prices will be fixed for at least the next 12 months, and the off-peak rates will still deliver driving costs of c. 2p per mile, or £200 for a typical 10,000 mile a year driver, representing a saving of over £1,500 versus doing nothing!
EV tariffs currently on offer include:

EV drivers not on a smart EV tariff need to quickly review their options, speak to their existing supplier, and if possible make the switch to mitigate the impacts of the significant increases that are about to hit the market!
Centrica interim results
With energy making the headlines at the moment, Centrica interim results suggest that after years of shareholder value decline, things are starting to improve with Operating Profit increasing to £1.3Bn in 2022 compared to £260M in 2021; here.
British Gas are clearly intent on growing their presence in the EV market, which should be good news for EV drivers if this results in a better customer experience:
"….It should also allow us to capture the opportunities arising from changes to how customers use their energy, for example through increased numbers of electric vehicles and growth in the electrification of heating, which benefit from dynamic time-of-use tariffs."
"…. allowing us to both train and certify our own apprentices and upskill our engineers to install heat pumps, electric vehicle charging points, smart meters and hydrogen ready boilers."
The numbers of BG Electric Drivers customers with an Ohme charger continues to increase meaning that even more customers are getting access to smart EV charging' Let's hope this trend continues…
EV Tipping Point?
The latest update from the British Vehicle Rental & Leasing Association, (BVLRA) suggests that we may have reached a tipping point in the UK with Battery Electric Vehicles now the most popular fuel choice for new car orders among business customers; here.
With BEV's now accounting for 43% of business contract hire orders and 84% of salary sacrifice orders, across the entire BVRLA leasing fleet EV's accounted for 32% of all new car orders in Q1 2022, followed by petrol (31%). What super news!
Want to receive this Weekly View straight to your inbox? Sign up here