'Power cycling' is the act of turning a device off and on again. This is often the first step to take if you are experiencing an issue with your Ohme charger. 
Power cycling your Ohme Home
First you'll need to locate the circuit breaker that your charger has been connected to. This is usually located in your main consumer unit or may have been installed as a separate switch. 
Pull the switch down into the OFF position to turn the charger off and wait for 10 seconds. This will allow any residual charge to drain away and the charger to power down completely.  
Push the switch up into the ON position and the charger may take a minute to power back up. 
A successful connection will be confirmed by the following connectivity symbols located in the top right-hand corner of the display screen.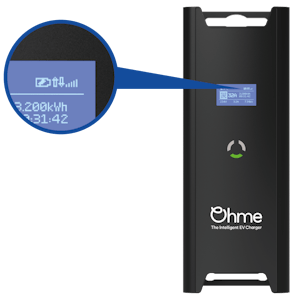 See also 'Understanding the display screen'. For further information about the symbols that show on the display, please see 'What do the icons on the Ohme Home screen mean?' in our FAQs. 
Power cycling your Ohme Home Pro
There are two ways to power cycle the Ohme Home Pro: using the 'reboot' button on the charger itself or via the mains.
1. Using the 'reboot' button on the charger display - First, unplug the charger from the car, then tap on the 'info' button on the Ohme Home Pro. Here you'll see the option to 'reboot' your charger. This is sometimes referred to as a 'soft reboot'
2. Powering the charger off at the mains - Follow the same steps as above for the Ohme Home. Then, to check that your charger has regained connection, check the status on the 'My Charger' page of the Ohme app. You'll see here if the charger is 'online' or 'offline', just make sure you're running the latest version of the Ohme app to see this feature. This is sometimes referred to as a 'hard reboot'.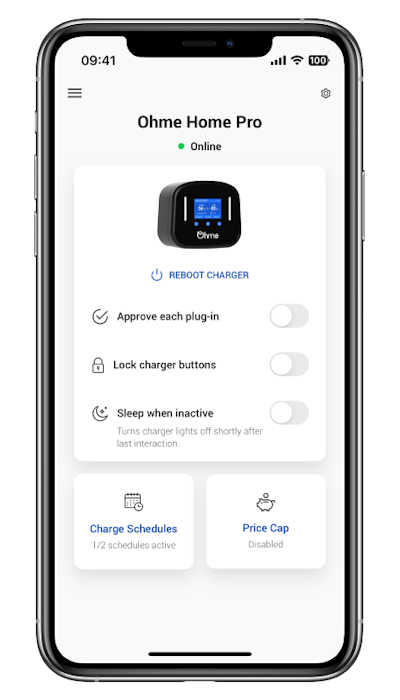 If you have any questions, or you're worried something just isn't quite right, our Customer Care Team are happy to help. Send us a message via help@ohme-ev.com.